Publications - Released in 1999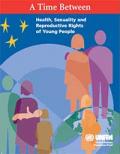 The impending demands of adulthood make adolescence a time of intensive preparation. Success depends greatly on the health care and basic education provided during these fleeting years. For young women, greater control over sexuality and reproduction may benefit every social and economic aspect of their lives.
The United Nations Population Fund (UNFPA) responds to adolescents in the context of their overall life situation, supporting activities that address their holistic well-being and help achieve their full potential. UNFPA recognizes that young people's education, health and life opportunities will determine the world's economic and social prospects in the 21st century.
Downloads
Organizations
United Nations Population Fund (UNFPA)