Publications - Released in 2012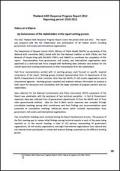 The 2012 Thailand AIDS Response Progress Report covers the period 2010 and 2011. This report was prepared with the full collaboration and participation of all related sectors including government, civil society and international organizations.
The spread of HIV in Thailand continues after the first diagnosed case nearly 30 years ago. From the first AIDS case report in 1984, the main driving force of the epidemic has been unsafe sex, and this has disproportionately affected women and men of reproductive age. Even though Thailand has had a National Strategic Plan since 1992 which helped the country succeed in rapidly slowing the spread of the virus during the decade that followed, HIV continued to spread during the first decade of the new millennium among the general population, with troubling trends in the key affected populations, including female sex workers (FSW), men who have sex with men (MSM), and people who inject drugs (PWID).
Downloads
Organizations
Ministry of Public Health - Thailand