Publications - Released in 2018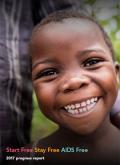 Start Free Stay Free AIDS Free is a collaborative framework to accelerate the end of the AIDS epidemic among children, adolescents and young women by 2020.
This progress report reflects achievements made during the first year of implementation (through December 2016), as countries have taken actions in line with new or existing national strategies. The most recent data on country progress in 2016 are based on country-reported data and country-developed models using Spectrum software that were reported to UNAIDS in 2017.
Downloads
Organizations
Joint United Nations Programme on HIV/AIDS (UNAIDS)