Data Sheets - Released in 2014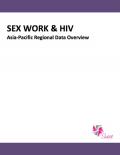 This Regional Data Overview presents regional data on sex work that is available as it pertains to HIV epidemiology, risk behaviours and vulnerability factors.
Commercial sex is the primary mode of HIV transmission in many Asian countries: where more people engage in commercial sex than in any other high-risk behaviour. An estimated 0.5%-15% of men pay for sex across the region. These men are one of the key determinants in both the spread and magnitude of HIV epidemics in the region, since they are the biggest single group that transmits HIV to their intimate partners.
Downloads
Organizations