Publications - Released in 2016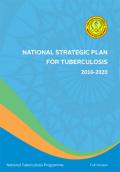 The National Strategic Plan (NSP) for Tuberculosis (TB) 2016-2020 builds on the past experiences for the National Tuberculosis Programme and its partners. This NSP provides a roadmap for delivering quality TB prevention and care service to the entire population, as an integral part of the country's move toward Universal Health Coverage. Between 1990 and 2015, Myanmar reduced the prevalence of TB by 50%, meeting the targets set by the Millennium Development Goals. Going forward, the country aims to further accelerate the rate decline.
The NSP is fully aligned with the World Health Organization End TB Strategy and is organized according
to three Strategic Directions, highlighted below. It also embraces four key principles:
government stewardship and accountability, with systematic monitoring and evaluation;
formal engagement of civil society organizations and communities,
protection and promotion of human rights, ethics and equity; and
adaptation of the strategy and targets at decentralized levels, with National Tuberculosis Programme coordination.
Downloads
Organizations
Ministry of Health and Sports - Myanmar