Guidelines - Released in 2017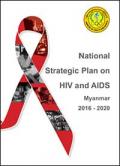 The Republic of the Union of Myanmar's National Strategic Plan on HIV/AIDS 2016–2020 is the strategic guide for the country's response to HIV at national, state/regional and local levels. The framework describes the current dynamics of the HIV epidemic and articulates a strategy to optimize investments through a fast track approach with the vision of ending HIV as a public health threat by 2030. Myanmar's third National Strategic Plan (HIV NSP III) issues a call to all partners to front-load investments to close the testing gap and reach the 90–90–90 prevention and treatment targets to protect health for all.
This strategy builds upon Myanmar's political commitment and the achievements of the previous HIV NSP II, and is aligned with the Three Ones principles and guides the country to focus on geographical, population and intervention priorities to ensure the greatest impact.
Downloads
Organizations
Ministry of Health and Sports - Myanmar