Publications - Released in 2014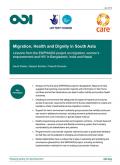 The EMPHASIS project (Enhancing Mobile Populations' Access to HIV and AIDS Services, Information and Support) has provided a diverse range of services to cross-border migrants in India, Nepal and Bangladesh over the past five years.
This report explores the project and the lessons it offers for both implementation and outcomes. It focuses, in particular, on women's empowerment and safe migration, as these are the two areas that emerged as cross-cutting themes that had a major impact on the agency of women who were, in turn, catalysts for change over the five years of the project.
Downloads
Organizations
Overseas Development Institute (ODI)