Laws and Policies - Released in 2008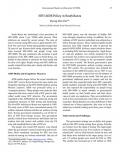 The core of HIV/AIDS policy was the detection of hidden HIV cases through compulsory testing. In addition, the surveillance of HIV positive individuals was enforced as a follow-through measure. Thus, traditional public health measures were fully utilized in order to prevent the spread of HIV/AIDS.
As of today, medical considerations dominate the South Korean's government HIV/AIDS policy. There is no sincere regard to issues relating to sexuality and risk taking in policy making.
Downloads
Organizations
Seoul National University