Fact Sheets - Released in 2017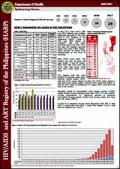 In May 2017, there were 1,098 new HIV antibody sero-positive individuals reported to the HIV/AIDS & ART Registry of the Philippines (HARP). This was 48% higher as compared with the same reporting period last year (741) and also the highest recorded cases ever since 1984. Eightyseven percent of those were asymptomatic at the time of reporting.
Most (95%) were male. The median age was 28 years old (age range: 2 year-67 years). More than half were from the 25-34 year age group while 30% were youth aged 15-24 years.
A total of 8 pregnant women were diagnosed with HIV in May 2017. 3 cases were from NCR, 2 cases from Region 3 and 1 case each for Regions 4A, 7 and 9.
Downloads
Organizations
Department of Health (DOH) - Philippines
Epidemiology Bureau - Philippines