Guidelines - Released in 2016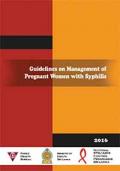 Syphilis is a sexually transmitted disease which may cause genital ulcer disease in the primary or secondary stages. However, majority of persons infected with syphilis remain asymptomatic making it difficult to identify the infection. These asymptomatic patients can be identified only through serological screening. If a woman has symptomatic or asymptomatic syphilis, infection can be transmitted vertically from mother to child resulting in congenital syphilis in the baby.
Syphilis is a condition which can be cured with penicillin treatment. Treatment of pregnant women having syphilis with penicillin treatment prevents congenital infection. Early identification and treatment of syphilis among females will reduce the risk of both sexual transmission and mother to child transmission.
Downloads
Organizations
National STD/AIDS Control Programme (NSACP) - Sri Lanka