Publications - Released in 2006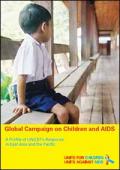 On 25 October 2005, the Joint UN Programme on HIV/AIDS (UNAIDS), UNICEF and partners across the globe launched the most ambitious campaign to date to focus the world's attention on the impact HIV and AIDS are having on children and young people today. Under the banner "Unite for Children, Unite against AIDS", the Global Campaign on Children and AIDS sought to raise the alarm for the millions of children already living with or affected by HIV and press countries into taking action for them and future generations. For too long, children have been absent from the global HIV prevention, AIDS treatment and care agendas, and the campaign seeks to relegate these grievous omissions to the past.
This campaign could not have come at a more opportune time in East Asia and the Pacific. While HIV prevalence in the region remains relatively low, the virus poses a serious threat. East Asia's massive population coupled with rapidly changing social and economic dynamics could escalate epidemics, and in turn, jeopardize the tremendous development gains that have greatly benefited millions of children in the region. The threat is of a different nature in the Pacific, where HIV could devastate sparse populations and undermine whole cultures and societies.
Downloads
Organizations
United Nations Children's Fund (UNICEF)