Publications - Released in 2015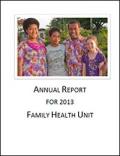 The year 2013 was a year of great achievement in regards to scaling up programs, strengthening and advocating for more support in certain areas of Family Health. The year was strengthened for the Unit with the edge of Monitoring and Evaluation added to the Unit as a strong pillar which added to the Unit a proper planning process.
There were lessons learnt in 2013 that would help improve 2014, some of these include proper planning with partners for implementation of programs though an important component for the whole unit was to secure staffing for the various programs under Family Health to ensure smooth roll out and closer follow up by project officers, such as Child health and Reproductive Health.
Family Health is committed to make a difference in the areas of Family Health for the people of Fiji.
Downloads
Organizations
Ministry of Health - Fiji