Publications - Released in 2017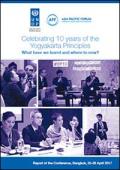 This report documents the discussions and recommendations made during the conference 'Celebrating 10 years of the Yogyakarta Principles: What have we learnt and where to now?' held from 25-26 April 2017 at the Dusit Thani Hotel in Bangkok, Thailand.
Since the adoption of the Yogyakarta Principles, many advances have been made toward ensuring that people of all sexual orientations and gender identities can live with the equal dignity and respect to which all persons are entitled. Many States now have laws and constitutions that guarantee the rights of equality and non-discrimination without distinction on the basis of sexual orientation or gender identity. Internationally, including within this region, there is increasing discussion about discrimination experienced by intersex people on the basis of their sex characteristics. With these developments and challenges in mind, the discussion covered broad-ranging issues and reached beyond the Principles as they were developed a decade ago, based on the existing international human rights law at that time. It encompassed legal developments over that period and other international, regional and national measures to promote and protect the rights of LGBTI people.
Downloads
Organizations
United Nations Development Programme (UNDP)
Asia Pacific Forum (APF)