Publications - Released in 2014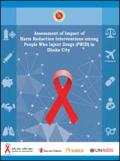 This assessment was carried out to understand the dynamics of risk behavior and to provide a description of the current situation of the HIV epidemic in Bangladesh as well as its future projections. The study was supported by: the National AIDS/STD Program (NASP), IEDCR, Save the Children, UNAIDS Bangladesh, icddr,b and CDC Atlanta.
The aim of the study is to understand the HIV transmission dynamics and epidemiological trends in Dhaka city and to estimate the extent to which harm reduction interventions among PWID have contributed towards the epidemiological trends and reduced HIV transmission in the city. Cost efficiency of the existing harm reduction interventions is also examined.
Downloads
Organizations
National AIDS/STD Programme (NASP) - Bangladesh