Publications - Released in 2017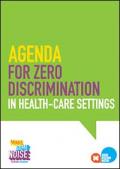 There has been great progress in the response to HIV during the past decade. The world is one step closer to eliminating HIV infections among children, more people living with HIV know their status and are accessing HIV treatment and AIDS-related deaths are declining.
However, throughout the world, stigma, discrimination, exclusion and inequality continue to make people vulnerable to HIV and hinder their access to HIV prevention, treatment and care services.
People living with HIV, key populations and other vulnerable groups continue to face stigma, discrimination, criminalization and ill-treatment based on their actual or perceived health status, race, socioeconomic status, age, sex, sexual orientation or gender identity or other grounds. Discrimination and other human rights violations may occur in health-care settings, barring people from accessing health services or enjoying quality health care. Workers in health-care settings can also face discrimination from their co-workers and employers, or work in environments where their rights, roles and responsibilities cannot be fully exercised.
Downloads
Organizations
Joint United Nations Programme on HIV/AIDS (UNAIDS)